LOVE MONTH HAS ARRIVED!
Whether you are in a relationship, loving the single life, waiting for that special someone, or just too busy being a #bossbabe to care, we all have something in common: our gal pals that we just couldn't live without!

They are there through it all:

Helping you decipher what that "hey" text meant...because it definitely meant something!
Sharing juicy screenshots, tagging you in memes, and spilling the HOTTEST tea.
Those Friday nights when all you need is each other and the biggest decision of the night is what face mask you're going to try.
Knowing exactly what you need to get back on your feet — Ben & Jerry are the only men who really understand us, and she knows that!
& everything else in between!

For all the things that make your friendship so special, you two deserve to be recognized and celebrated! From the Chooka ladies to you, here's our list of Galentine's Day favorites that you can gift your gal pal (+ yourself) this month.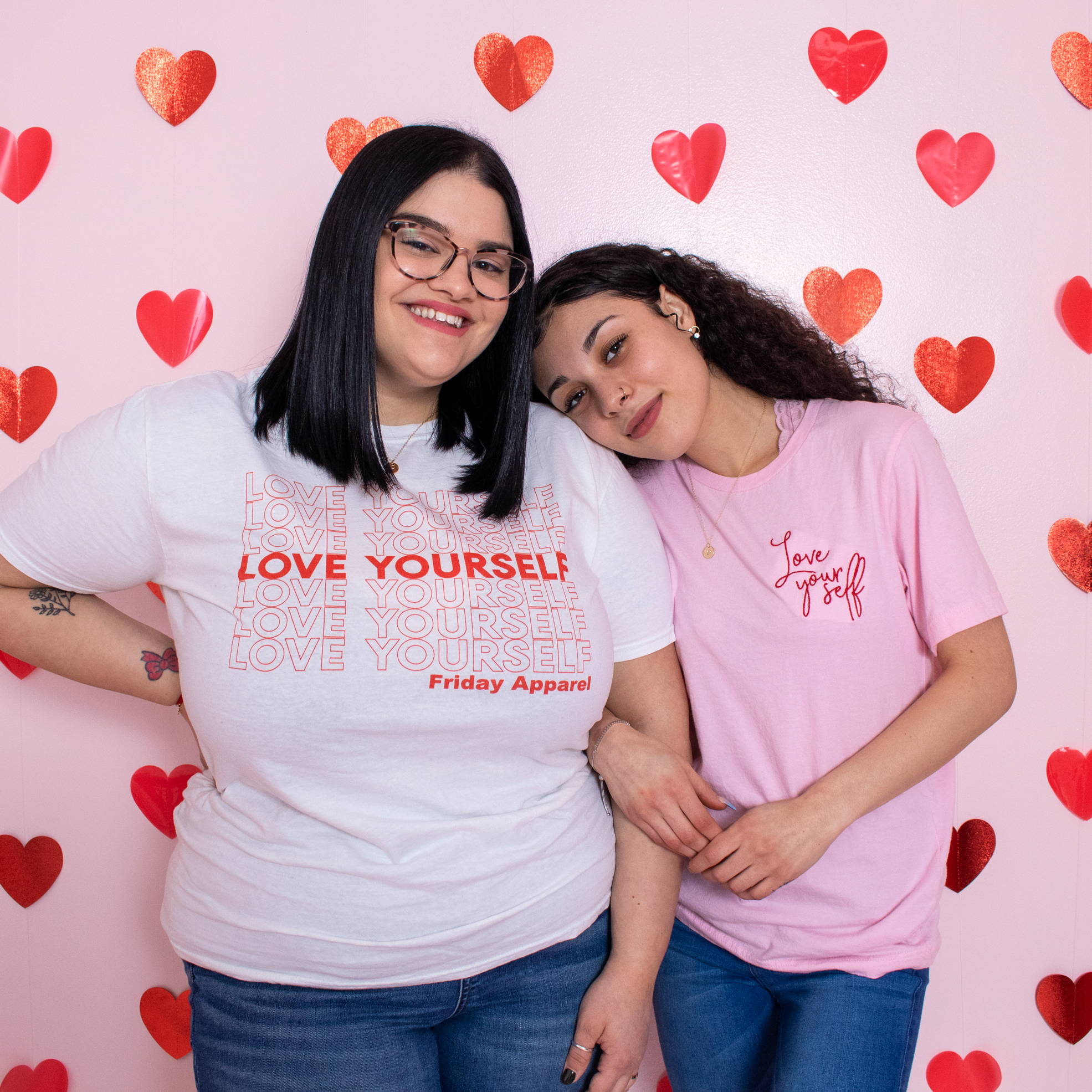 LOVE YOURSELF

Coordinate in style with difference pieces that share the same wonderful message: "Love Yourself!" We recently featured these two cute tees in our very own Galantine's Day photoshoot and we can't get enough!
The Love Yourself Embroidered Shirt runs from Small to 2XL and comes in white, black, pink & mauve (they make a sweatshirt as well)!
Friday's Love Yourself Tee comes in both pink and white, from size Small to 2XL.  

THE FORCE IS STRONG WITH THIS ONE
Star Wars fans, are you? Show off your friendship AND your love for Star Wars puns with this Star Wars Convo Hearts Candy Sweatshirt. (Psst...Friday also has some Baby Yoda designs, if you're a sucker that for soup sippin' cutie)

The Star Wars Convo Hearts Candy Sweatshirt runs from size Small to size 3XL and comes in white, pink, grey and black.  

RIDE OR DIE
Fast food, faster friends: nothing comes between you two, your cravings, and your quality time. Celebrate your forever late-night drive-in companion (Sidekick? Copilot? Snack fiend?) with the shirt that says it all! 🍟
Friday's Fries Before Guys Tee comes in gold, pink, and black and ranges from size Small to 4XL to accommodate a wide range of beautiful body types.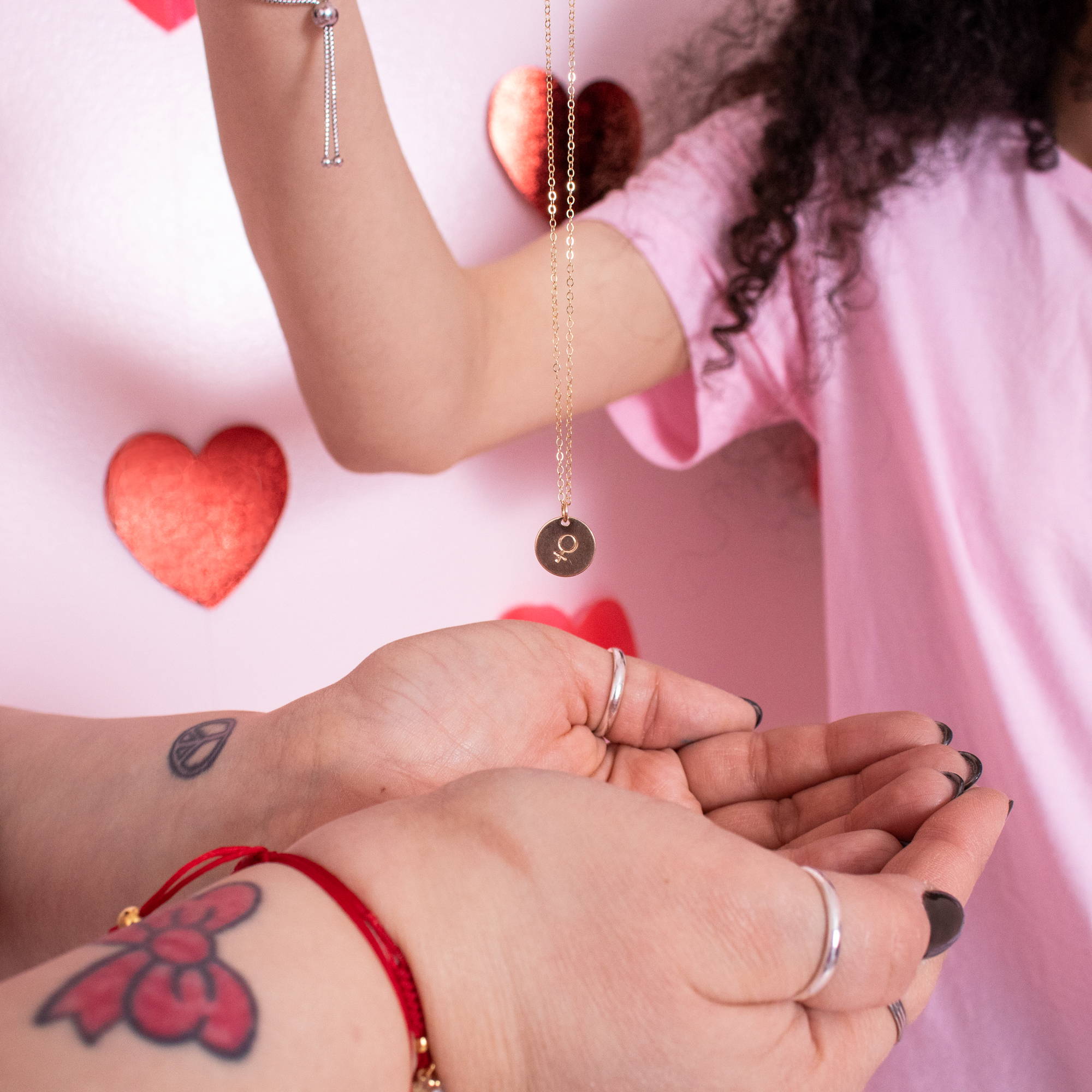 GIRLS UNITE!
Looking for the perfect upgrade from your childhood friendship bracelets? Get matching necklaces so you can both show off your #feminist pride!
This Female Symbol Necklace is sophisticated, simple, and comes in three different finishes and multiple lengths so you can customize it according to your individual styles!
FLOWER POWER
Celebrate your unbreakable bond with these Pressed Flower Necklaces. You can each get your favorite flower (there are 3 different options) perfectly pressed in either a silver or gold hoop. Proudly wear those petals and never forget that beauty is everywhere YOU go!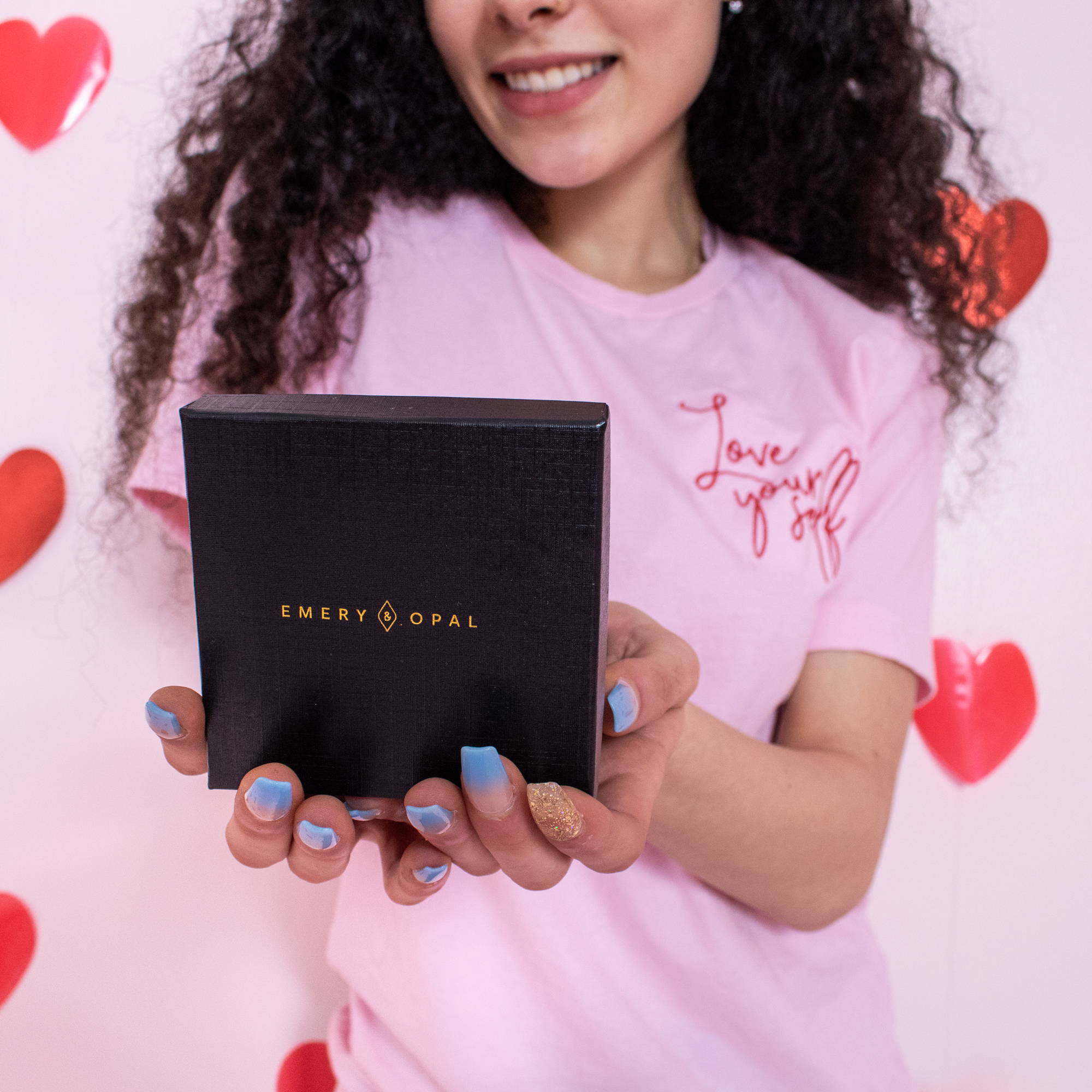 WEAR YOUR HEART ON YOUR EAR
Shine bright and spread the love with these minimalist huggie Rainbow Heart Hoop Earrings!
Have multiple piercings or don't want to match each other exactly? Emery and Opal stocks matching Rainbow Tiny Hoop Earrings — a variation without the charm — so you can coordinate accordingly! 🌈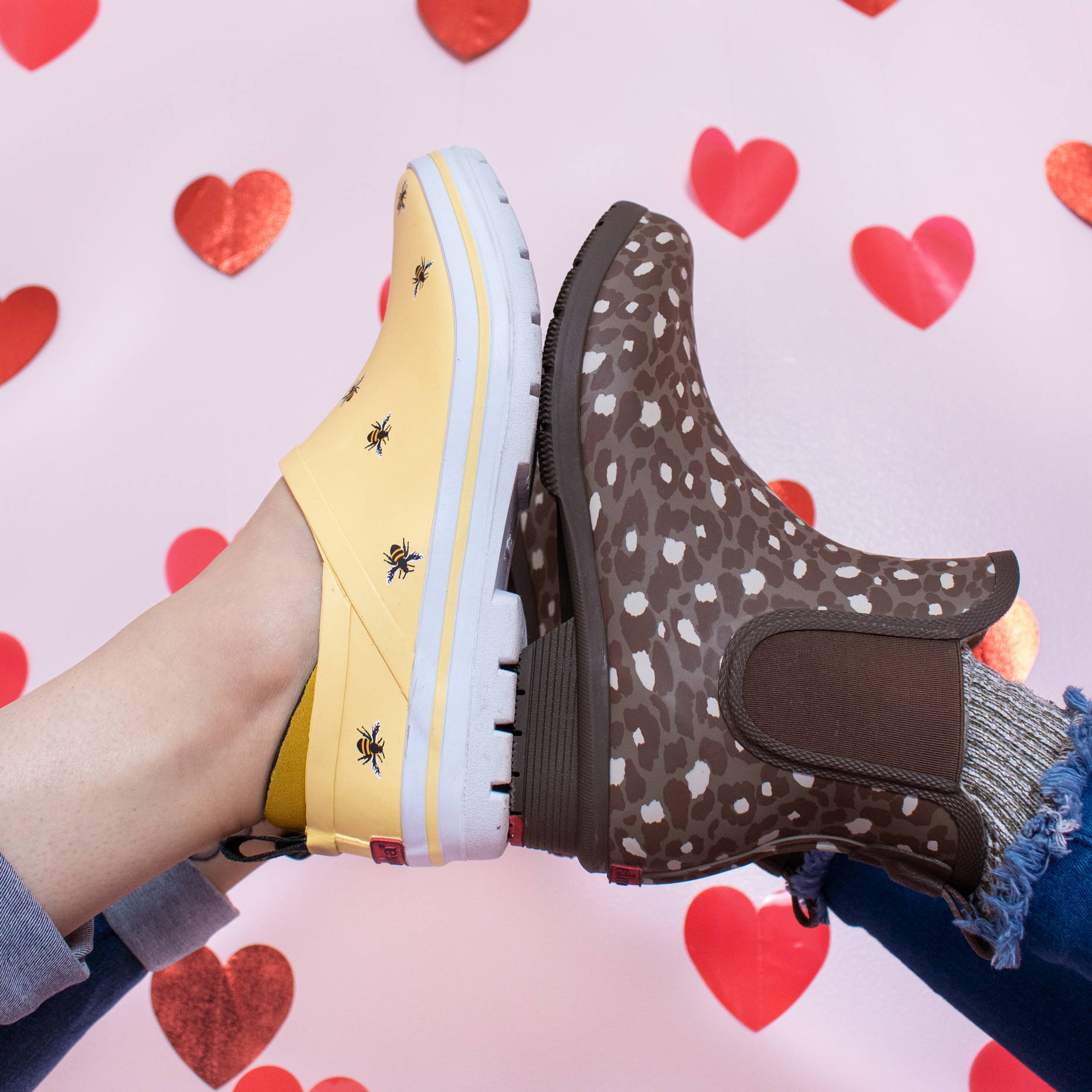 ANIMAL LOVERS
Show off your love for our furry, buzzy, and fuzzy friends with some of our new spring prints: the Rosette Chelsea and the Madrona Step-In in Buzz Beez!
Is your pal as sweet as a honeybee? Are you loving the leopard print trend? Get one for them and the other for yourself so you can strut your stuff side by side!
BAINBRIDGE BABES
Looking for a gift that's useful, trendy, and goes with nearly everything in both of your closets? Our waterproof Bainbridge Chelseas come in a range of neutral hues and just don't quit when it comes to style and comfort!

Treat yourself and your BFF to these plush-lined, puddle-ready booties so you can weather storms and dance in the rain side-by-side (literally and figuratively). ❤️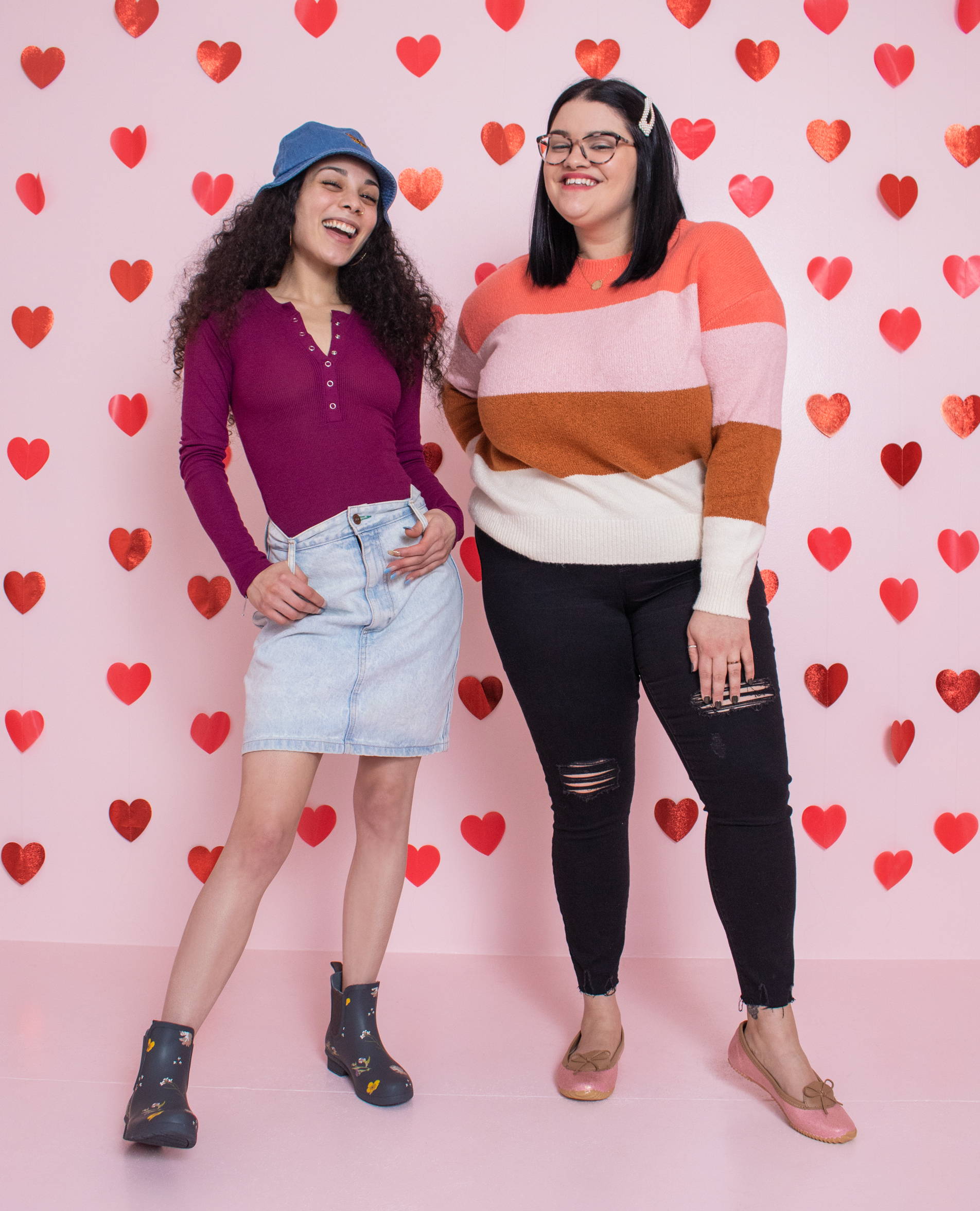 COORDINATING CUTIES
Friends with different styles are so fun! They open your eyes to new things and help you appreciate the variety around you. 😊
Show off each of your unique tastes with this carefully coordinated duo: our Flower Press Chelsea and Rose Gold Glitter Duck Skimmer! You'll compliment AND complement each other while wearing these pairs.
Love what you see? Browse all three shops for an even wider range of awesome gift ideas! Not only will you score some super cute duos, you'll be supporting all women-run businesses! 

Shout out to Daniela from @shopfridayapparel, Amanda and Tiffany from @emeryandopal, and our awesome models, @sundaymorningsbyv and @_gabbygene for being our Galentines' and helping bring this all together! Be sure to check out them all out on Instagram for even more awesome content and fashionable finds.
---